Solo Piano
Der Mann am Klavier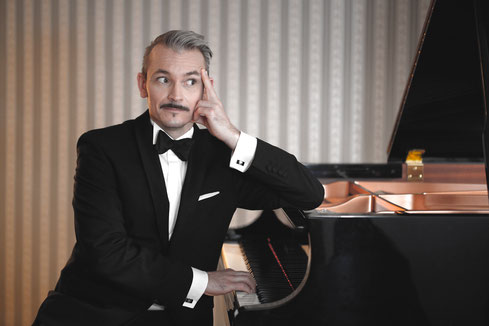 Bereichern Sie Ihre Veranstaltung mit klassischer oder moderner Pianomusik.
Stilistisch angepasst und auf Ihre Wünsche zugeschnitten wird Ihr Event zu 
einem besonderen Anlass. 
Dinnermusik, Matinee, Trauungen, Hochzeiten, Beerdigungen, Vernissage
oder einfach nur so für Sie zu Hause oder als Geschenk.
einige Referenzen:
Edeka Baden-Württemberg
Namics, CH-Schweiz
Berchthold GmbH, CH-Schweiz
HESS GmbH, Villingen-Schwenningen
Kongresszentrum, Karlsruhe
Stadt Villingen-Schwenningen
Kurklinik Limberger Bad Dürrheim
Allianz-Versicherungen
Steinel Normalien AG Deutschland
Schloss Schramberg
Volksbank
Sparkasse
Bosch AG 
Mercedes Benz
Rotary Club international
Steinbeis Transferzentrum
Carl Valentin GmbH
Round Table Villingen
Modehaus Broghammer
Weber Haus
Stern Plastic
Schloss Fürstenberg
Baden Media
Handwerkskammer, Konstanz
Reportoire Auszüge
Jazz Classics
All Blues
All of me
Armando´s Rhumba
As time goes by
Autumn Leaves
Beautiful Love
Besame mucho
Bei mir bist du schön
Beyond the Sea
Billies Bounce
Birks Works
Black Orpheus
Blue Bossa
Blue Moon
Bluesette
Body and Soul
Brazil
C Jam Boogie
Candy
Cantaloupe Island
Chega de Saudade
Dream a little Dream
El Choclo
Fly me to the Moon
Gentle Rain (The)
Georgia
Girl from Ipanema (The)
Honeysuckle Rose
How high the moon
How Insensitive
I got Rhythm
I wanna be loved by you
I wish you love
I´m beginning to see the light
In a sentimental Mood
It don´t mean a thing
It´s only a paper moon
La Cumparsita
Let´s fall in Love
Love Story
Lover Man
Mack the knife
Manha de Carneval
Mercy mercy mercy
Misty
Moon River
Moonlight in Vermont
My Way
New York New York
Night and Day
Now´s the time
Over the Rainbow
Root Beer Rag
Round Midnight
Route 66
Run of the Keys
Satin Doll
Save Your Love for me
Shadow of your Smile
Smile
So What
Softly as in a morning Sunrise
Someday my prince will come
Something Stupid
St.Thomas
Straight no Chaser
Strangers in the Night
Summer Samba
Summertime
Sunny
Take Five
Take the A Train
The Entertainer
The Man I love
These foolish Things
This Masquerade
Waltz for Dario
Wave
What a Difference a day ...
What a wonderful world


u.v.m.
Rock/Pop
A night like this
Adesso Tu
Against all odds
Ain´t no sunshine
All this time
Applaus Applaus
An Tagen wie diese
Angels
Are you lonesome tonight
Bacardi Feeling
Behind blues Eyes
Bello e impossibile
Black Magic Women
Can you feel the love t...
Candle in the Wind
Dein ist mein ganzes Herz
Don´t let the sun go down on me
Empire state of mind
Everything I do
Fire and Rain
From a distance
Hinter´m Horizont
Hotel Californie
House of rising Sun
How deep is your love
I don´t wanna miss a thing
I guess that´s why they call it the Blues
I just called to say I love you
I still haven´t found what I´m looking for
Imagine
In the Air tonight
Ja
Jar of hearts
Jessie
Junimond
Just give me reason
Just the two of us
Just the Way you are
Killing me Softly
Lady in Black
Leningrad
Let it Be
Light my fire
Love me tender
Männer sind Schweine
Morning has broken
Music
My heart will go on
New Age
Nothing Compares to you
Payphone
People help People
Rolling into deep
Santa Maria
Save the best for last
Saving all my love for you
Smells like teen spirit
Someone like you
Song for Guy
Sound of silence
Sunny
Sweet child of mine
Tears in heaven
The A team
The Boxer
The Scientist
That´s what friends are for
Tima after Time
Time to say goodbye
We are the champions
We are the world
Wings
Without you
Words
Yesterday
You
You´re my heart You´re my Soul
You are the Sunshine of my life
You´ve got a friend
Your Song
u.v.m.
Klassik & Filmmusik
An der schönen Blauen Donau
Ballade pour Adeline
Brautchor
Buona Sera
Chim-Chim-Cheri
Comptine d'un autre été
Divenire
Eine kleine Nachtmusik
Einsamer
El condor Pasa
Für Elise
Für mich soll´s Rote Rosen regnen
Greensleaves
Gymnopedie
Habanera
Halleluja
He´s a pirate
In mir klingt ein Lied
Io So Soltanto
La Le Lu
La Mariposa
La Paloma
Le Valse De Amelie
Love Story
Memory
Oh Champs Elysee
Que Sera
Radezky Marsch
Somewhere my Love
The Piano
Träumerei
Tulpen aus Amsterdam
Up Theme
Valse de Monstres
Wien bleibt Wien
Wiener Blut
Wunderbar
u.v.m.